Anne Hillerman
   Anne Hillerman (1949- )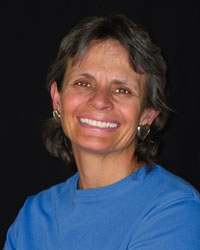 Anne Hillerman was born in Lawton, Oklahoma in 1949, moving to her beloved Santa Fe at the age of four. Ms. Hillerman pursued her higher education at University of Massachusetts at Amherst, and graduated with a journalism degree from the University of New Mexico. From the family's modest home on Texas St. in Albuquerque, she and her dad drove to UNM.
From a family of six children, Anne Hillerman is probably the most like her father, renowned mystery novelist Tony Hillerman. Like her dad, Ms. Hillerman's long-time foray into writing began with writing non-fiction, and like her dad, she worked as an investigative journalist, technical writer and arts editor for the Santa Fe New Mexican. Hillerman has worked for over twenty years as a professional journalist, and her restaraunt reviews were a fond staple of the Albuquerque Journal. She avidly labors on behalf of journalists and authors of fiction, evidenced by her service as an officer for the New Mexico Press Women association and in her decades-long dedication to the promotion of new Southwest literature.
As a food critic writing for The Albuquerque Journal, Ms. Hillerman's descriptive and forthright prose heightened appreciation for the region's unique culinary traditions. The author began publishing non-fiction books in 1983, including Done in the Sun, Ride the Wind: USA to Africa, The Children's Guide to Santa Fe, and Santa Fe Flavors: Best Restaurants and Recipes. She collaborated with her photographer husband Don Strel on Gardens of Santa Fe, and Tony Hillerman's Landscape: On the Road with An American Legend. The work is threaded together by Hillerman's deep historical knowledge of the region and her father's writing process and is a classic coffee table book featuring wide-range panoramic photos of the gleaming sandstone, red buttes, arroyos, and towers of Canyon de Chelly and other iconic Southwest landscape interspersed with poignant quotes from the Leaphorn/Chee detective series.
In 2013, Anne Hillerman picked up the threads of her father's substantial legacy with the publication of Spider Woman's Daughter. The novel progresses the plot line of Diné detectives Joe Leaphorn, Jim Chee and Bernadette Manuelito. Hillerman sought to provide a corrective in her father's work. Anne notes she was bothered by the narrative of Bernadette "mostly getting rescued" and endeavored to pen a western "where Bernie saves the day."
Ms. Hillerman continues her literary efforts, publishing Rock with Wings in 2015, another in the Leaphorn and Chee series set against the magnificent backdrop of Monument Valley. Song of the Lion, her third work of fiction, went to press in 2017.
Spider Woman's Daughter made the New York Times book list, and won the 2014 Western Writers of America Spur Award for best first novel. In 2015, Ms. Hillerman delivered the Rudolfo and Patricia Anaya Lecture on Literature of the Southwest, entitled "Why Stories Matter." In co-founding and directing the the Wordharvest Writers' Workshops and Tony Hillerman Writer's Conference, in addition to numerous other community writing endeavors, conferences, and award ceremonies, Anne Hillerman embraces a Southwest tradition that truly knows and appreciates the value of a story.
Hillerman has vibrant and loving memories of growing up as the eldest in a busy household of six children. Although she teased in a Albuquerque Journal column that Janet, her sister, displaced her as the family princess, she concluded that, "when I open my metaphorical treasure chest these days, I realize my parent's investment in love paid dividends that any princess would cherish. Growing up in a big family taught me about differences and commonalities, about compassion and fairness, about the purpose of tears and the healing power of humor."
Ms. Hillerman lives in a passive solar adobe home in Santa Fe with her husband Don, and when she is not writing, she is probably busy with her two grandchildren, skiing, hiking, or listening to classical music.
Anne Hillerman has published 3 novels and 8 non-fiction works, as well as many newspaper and magazine articles. The following is a list of her major publications:
A. Novels
C. Non-Fiction