The Fallen Man [HarperCollins, paperback, 1997]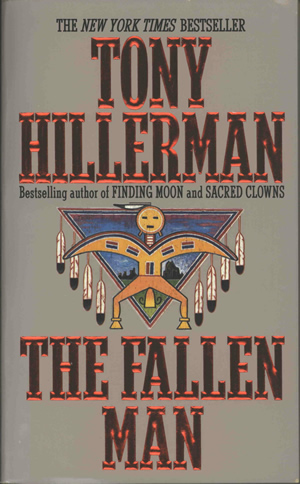 The manuscripts for The Fallen man are being processed.
The Fallen Man [HarperCollins, paperback, 1997]
Publication Details:
New York: HarperPaperbacks, 1997.
Edition Notes:
This is the first paperback edition of The Fallen Man, published by HarperPaperbacks in 1997.
The cover illustrations are by Peter Thorpe, who designed covers for many of the US editions of Hillerman's work. The front cover has a beige background. The author's name and the novel title are printed in raised metallic red. The illustration is a representation of a Navajo Yei figure in front of an upside down triangle with feathers hanging from the sides. Inside the triangle are some sandstone formations on one side of the Yei figure and Ship Rock mountain on the other side, below a sky with clouds and New Mexico sunset coloration at the top.
The back cover is beige. Flanked by two Yei figures with gesturing arms is the novel title and synopsis. Below this is the bar code and price.
The inside front cover contains the logo, publisher's name, bar code, and price. The inside back cover displays a 1993 photo of Tony Hillerman with credit to AP NewsFeatures Photo, and a short biography of the author.
Title Page Transcription: TONY | HILLERMAN | THE FALLEN MAN | [logo] | HarperPaperbacks | A Division of HarperCollinsPublishers
Contents: [i-iii] praise, [iv] Books by Tony Hillerman, [v] title page, [vi] fiction disclaimer and copyright, [vii] dedication, [viii] blank, [ix] acknowledgements, [x] blank, [xi] half title, [xii] blank, [1]-302 text, [303-304] blank, [305] advertising, [306] blank, [307] advertising, [308] blank
Physical Attributes:

Format: Paperback, 17 x 10.5 cm
Binding: Beige paper covers. On the spine, the logo is printed above the author's name and title printed in red metallic, and the price.
Collation: [i-xii] [1]-[308]
Price: $6.99 USD