Writing Mysteries [Writer's Digest Books, hardcover, 1992]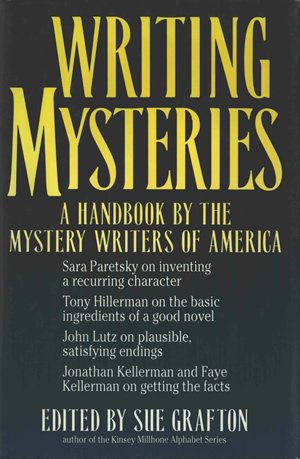 There are no manuscripts for this title in this collection.
Writing Mysteries [Writer's Digest Books, hardcover, 1992]
Publication Details:
Cincinnati: Writer's Digest Books, 1992.
Edition Notes:
This is the full and detailed view of Writing Mysteries: A Handbook by the Mystery Writers of America, edited by Sue Grafton, and published in 1992 by Writer's Digest Books. Tony Hillerman contributed a chapter, "Building Without Blueprints" to Part II, "The Process," beginning on page 77.
This is a hardcover book with dust jacket designed by Carol Buchanan. The front cover features the main title in large print and the subtitle in smaller print below it, in yellow on a dark blue background. The editor's name is along the bottom of the cover, in white. On the back, the title and subtitle are repeated in blue on white, above a descriptive paragraph and a partial list of contents. The bar code and price are printed at the bottom right.
The front fold-out contains an excerpt from Sue Grafton's introduction. The back fold-out displays the editor's photo, credited to Carter Blackmar, above the editor biography. The inside front and inside back covers are blank, and the end papers are white.
Title Page Transcription:
WRITING | MYSTERIES | A HANDBOOK BY THE | MYSTERY WRITERS OF AMERICA | EDITED BY SUE GRAFTON | [Writer's Digest logo] | Cincinnati, Ohio
Contents:
[14] half title, blank, title page, copyright, A Word of Thanks From the Editor, Contents (4), About the Editor, Foreword (3), blank, [1]-186 text, [187]-189 A Reference List for Mystery Writers, [190] blank, [191]-197 Author Biographies, [198] blank, [199]-206 Index, [207]-208 Permissions Acknowledgements, [209-210] Other Books of Interest
List of Contents:

Foreword, Sue Grafton
Introduction, Gregory Mcdonald
Part I: Preparation
Part II: The Process


The Beginning
The Middle
The End

Part III: Specialities
A Reference List for Mystery Writers, Bruce Cassiday
Author Biographies
Index

Physical Attributes:

Format: Hardcover with dust jacket, 23.5 x 16 cm
Binding: Full binding, blue paper-covered boards. Title, editor name, and publisher's logo in gold on spine.
Collation: [14] [1]-186 [187]-[210]
Price: $18.95 USD/£11.95