Coyote Waits [Reader's Digest Condensed, hardcover, 1992]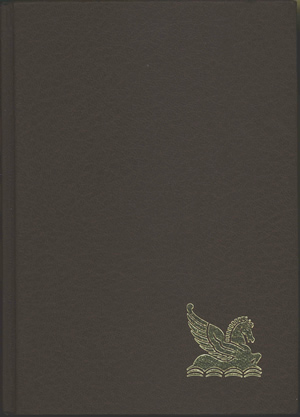 Coyote Waits [Reader's Digest Condensed, hardcover, 1992]
Publication Details:
Surry Hills, NSW: Reader's Digest (Australia), 1992.
Edition Notes:
This is the first Australia/New Zealand edition of the Reader's Digest Condensed version of Coyote Waits. This compilation also contains novels by Frederick Forsyth and Rosamunde Pilcher.
This hardcover volume does not have a dust cover. The front cover is textured burgundy vinyl with the Reader's Digest pegasus logo in gold in the bottom right corner. The back cover is also textured burgundy vinyl with no printing or marks. The inside front and inside back covers are blank. The endpapers are cream.
Title Page Transcription: [logo] Reader's Digest | [rule] | Condensed Books | thumbnail of The Deceiver | thumbnails of September and Coyote Waits
Contents: [1] title page, [2] copyright, [3] table of contents, [4-5] illustrated synopses of novels, [6-7] illustrated title page of The Deceiver, [8] illustrated quote, 9-510 text, [511] Tony Hillerman biography, [512] original copyright information and acknowledgements
Table of Contents

The Deceiver by Frederick Forsyth
September by Rosamunde Pilcher
Coyote Waits by Tony Hillerman

Physical Attributes:

Format: Hardcover, 19 x 13.5 cm
Binding: Burgundy textured vinyl-covered boards. On the spine, the publisher, book titles and logo are printed in gold.
Collation: [1]-[512]
Price: Undetermined