Speaking of Murder [Berkley Prime Crime, paperback, 1998]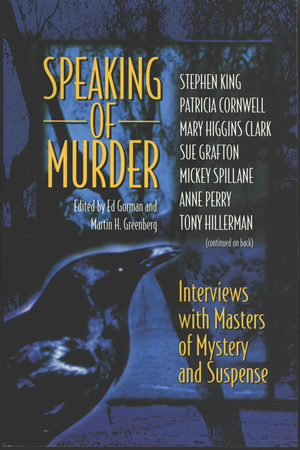 There are no manuscripts for this title in this collection.
Speaking of Murder [Berkley Prime Crime, paperback, 1998]
Publication Details:
New York: Berkley Publishing Group, 1998
Edition Notes:
This is Speaking of Murder: Interviews with Masters of Mystery and Suspense, edited by Ed Gorman and Martin H. Greenberg and published in 1998 by Berkley Prime Crime, an imprint of the Berkley Publishing Group and a member of Penguin Putnam Inc. The book contains interviews with many mystery authors in addition to Tony Hillerman, such as Stephen King, Patricia Cornwell, Mary Higgins Clark, and Sue Grafton.
The cover design is unattributed, and features a background of tree silhouettes on a purple ground and the head and upper body of a raven or crow, in shades of black, blue and purple.
The front cover text has the book title and subtitle printed in yellow, with the editors' names and a partial list of contributors printed in white.
On the back cover, the list of contributors continues in yellow along the spine, while white text gives a synopsis of the book with bulleted mentions of content by particularly well-known authors. The back cover background is blue and the bar code is in the lower right corner.
The inside front and inside back covers are blank.
Title Page Transcription: [device] | SPEAKING | OF MURDER | INTERVIEWS WITH THE | MASTERS OF MYSTERY | AND SUSPENSE | [device] | Edited by | Ed Gorman and | Martin H. Greenberg | colophon | BERKLEY PRIME CRIME, NEW YORK
Contents: [i] half title, [ii] blank, [iii] title page, [iv] copyright, [v] individual interview credits and copyrights, [vi] blank, vii-viii Contents, ix-x Introduction, 1-242 text, 243-245 Contributor Notes, [246] blank
Table of Contents:

Introduction
Stephen King interview
Mary Higgins Clark interview
Joan Hess interview
Ed McBain interview
Simon Brett interview
Elizabeth George interview
Peter Lovesey interview
Carolyn G. Hart interview
Marcia Muller interview
Mickey Spillane interview
Ian Rankin interview
Dominick Abel interview
Tony Hillerman interview
Bill Pronzini interview
Elizabeth Peters interview
Minette Walters interview
John Harvey interview
Sharyn McCrumb interview
Sue Grafton interview
Anne Perry interview
Patricia Cornwell interview
Contributor Notes

Physical Attributes:

Format: Paperback, 23 x 15 cm
Binding: Full-color paper covers.
Collation: [i-vi] vii-x 1-245 [246]
Price: $12.00 USD